The BRIDGESTONE S21 - Designed and developed to get the best out of latest hypersport machines. Battlax Hypersport S21 delivers the thrill of riding in any conditions. An awesome mix of acclaimed technology and completely new features have been used to define the highest performance with no compromise on safety and pleasure. Discover more and enhance your skills with the new S21 with its superb abilities in stability, handling and cornering performance on dry and wet without compromise on the life span of the tyre with its increased mileage.
Product concept
Hypersport radials that deliver the highest performance to give confidence, satisfaction and accomplishment during cornering while keeping this through a longer life span of the tyre.
Technical aims
Upgrading the full package of S21 in terms of dry performance together with a big step forward in mileage
Methodology
Improve Cornering grip
Improve Handling performance
Improve Mileage
Technical elements
NEW compound
NEW pattern design
NEW technology
NEW profile and optimized construction
A superb combination of the already acknowledged Wet performance of S20EVO and the new features of S21 improving Dry performance and increasing Mileage.
Benefits
Reassuring Wet performance
Extreme dry-condition overall performance
Superb cornering stability
Shorter line precision
Safety and confidence
Higher mileage with upgraded performance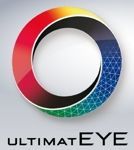 Ultimate eye
Ultimate EYE (U-EYE) is the newly developed indoor testing facility by Bridgestone Research and Development group. Bridgestone's new S21 is the first to benefit from this.
What is it ?
U-EYE allows visualization of the contact behaviour of a tyre under various speeds and conditions.
U-EYE analysis helps to find the best solutions regarding the optimum combination of compound, tread design, construction and tyre profile.
Gives a very detailed contact patch pressure distribution including slip area at various speeds, loads and slip angles.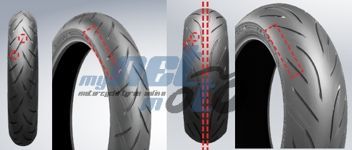 Pattern design
Stability and handling together with a consistent high grip was the defined aim of the pattern design.
Groove positioning: very important to have the best combination of sea
Benefits
Tread rigidity enhancement for additional stability on the front during braking and on the rear during acceleration phases Contact patch optimization for additional grip in straight line and with lean angle

A real step forward in terms of Dry-condition performance. With a focus on cornering stability and handling. All this without sacrificing any of the known and appreciated wet performance of its predecessor. And all these improvements will be felt and discovered over an extra 36%* mileage.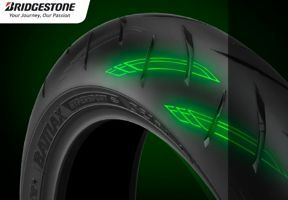 The Bridgestone S 21 will be available in 10 size

Front 110/70 ZR17 (54W) 1Q
Front 120/60 ZR17 (55W) 1Q
Front 120/70 ZR17 (58W) JAN 2016
Front 130/70 ZR16 (61W) 1Q

Rear 150/60 ZR17 66W) 1Q
Rear 160/60 ZR17 (69W) 1Q
Rear 180/55 ZR17 (73W) JAN 2016
Rear 190/50 ZR17 (73W) JAN 2016
Rear 190/55 ZR17 (75W) JAN 2016
Rear 200/55 ZR17 (78W) 1Q
VIDEO
#myNETmoto #moto #motorcycle #tyres #tirs #motorradreifen #pneumaticimoto #motopneus #neumáticosmoto #pneusmota #motorbanden #mcdaek #mprenkaat #pneumotocyklové #motorgumik #anvelopemoto #oponymotocyklowe #pnevmatikemoto #motociklariepa #padangos #motociklų #Моторезина #自動二輪車用タイヤ #摩托車輪胎 #Bridgestone #S21

by KM - myNETmoto.com