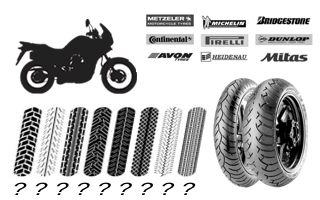 Informacije, ki so na tej strani je samo za vašo informacijo. Si v celoti izpolni myNETmoto od nikakršne odgovornosti v zvezi, ali kot posledica, zahtevki po sebi in / ali tretjim osebam za morebitno škodo, nastala po vgradnje pnevmatik ni dovoljeno.
DUNLOP STREETSMART


Combining classic looks with modern technology, the new StreetSmart is ideal for older or classic bikes. Innovative Silica compound offers longer mileage and better wet performance. Ideal for lightweight and classic bikes - Stylish design - State of [...]
(vklj. exkl DDV. Dostava)
BRIDGESTONE BT 45


This all-round sports bias tyre is for imported and re-imported bikes and offers the same basic performance as the BT-45. Ideal for the rider who seeks overall high-speed performance.
PIRELLI SPORT DEMON


New conventional sporty tyre for medium powered sport-touring bikes Lighter and precise handling and stable behavior in all riding conditions given by the multiple radius rear tyre contour Optimized mechanical dry and wet grip without compromisin [...]
(vklj. exkl DDV. Dostava)