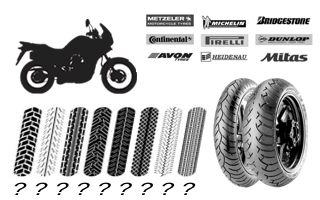 Informacije, ki so na tej strani je samo za vašo informacijo. Si v celoti izpolni myNETmoto od nikakršne odgovornosti v zvezi, ali kot posledica, zahtevki po sebi in / ali tretjim osebam za morebitno škodo, nastala po vgradnje pnevmatik ni dovoljeno.
CONTINENTAL CONTI GO!


The new ContiGo is designed to the same exacting standards as Continental's range of tyres for larger capacity machines, providing the discerning commuter with the same ride quality, stability and confidence. The ContiGo is designed to give [...]
(vklj. exkl DDV. Dostava)
BRIDGESTONE BT 45


This all-round sports bias tyre is for imported and re-imported bikes and offers the same basic performance as the BT-45. Ideal for the rider who seeks overall high-speed performance.
(vklj. exkl DDV. Dostava)
PIRELLI MT 66